Click the down arrow for more of the course and more free previews!
Vertical Marriage is a weighty, no-holds-barred approach to get your marriage started on the right spiritual footing. Wise and spiritually penetrating, this course is an ideal way to spiritually test your relationship and understand its biblical foundation. As an added treat, it also offers much practical, real-world advice to help you on the journey toward marital intimacy in all aspects. Highly recommended, especially for serious believers.
Gary Thomas
- Author of Sacred Marriage and The Sacred Search
It is an honor to recommend this amazing resource! In a time of great confusion and unnecessary complexities this book draws a distinct arrow to the heart of Jesus and truth of the Bible! We ought to believe day and night for a restoration of families to their intended design... and yet know it starts with each one of us!
Andy Byrd - Co-founder of the Send, Fire & Fragrance Ministries and Circuit Riders, YWAM Kona
There is a great difference between a marriage that 'gets by' and one that is lived in light of eternity. Mike and Anne Rizzo lift our vision here, with Vertical Marriage. Their own marriage is a testimony, and this course offers the reader a powerful blueprint for a beautiful union that will help any couple, young or old, to revive their perspective on deep partnership and worship.
Sara Hagerty - Author of Unseen and Adore.
I am someone captivated with eternity and fixated on living a life that will bear eternal fruit so I've reached to live before the One who will evaluate my life in the end.  Mike & Anne Rizzo state in Vertical Marriage, "The hour in which we live is not a time to cast off restraint or focus on the temporal; it's a time for husbands and wives to contend for fresh, eternal vision in their marriages." If you are considering marriage never let go of the highest vision, living for the audience of One.  This course will give you tools on how to love Him and how to grow in love for one another.
Misty Edwards - Worship Leader and songwriter
Wisdom has been defined as the ability to live life skillfully. In this course, Mike and Anne have crafted a tremendous tool to help you navigate your courtship skillfully. Their wisdom will prepare you for a loving marriage filled with joy and hope—with Jesus at the center. I recommend this one highly!


Bob Sorge - Author, Secrets of the Secret Place
Vertical Marriage Enrollment Includes:
Lifetime Access to 28 video sessions
(Study at your own pace.)
Personal "one on one" coaching sessions (1hr) - a total of four.
(In-Person OR Online)
"Mike and Anne are seasoned counselors and friends of the Lord. Premarital counseling was a joy with them, even as we walked through some tough places of the heart. They painted a much-needed, biblical perspective on marriage in light of eternity and our callings to love God first." 
Carl & Ailene
"My wife and I were so glad we did premarital counseling with the Rizzo's.  Our time with them pinpointed areas of weakness and gave us some tools to grow: like resolving conflict and defining the roles in our relationship. Because of these conversations, we went into marriage empowered to move forward as a team." 
Brian & Joannie
"Mike and Anne Rizzo were a well of deep wisdom to drink from as we made huge decisions that greatly impacted our future. They were able to read deeply into our hearts and tell us things that we were thinking and feeling but couldn't really articulate. Their advice has stuck with us, making our marriage stable and strong, and is still shaping the way we live day by day."
Nate & Kate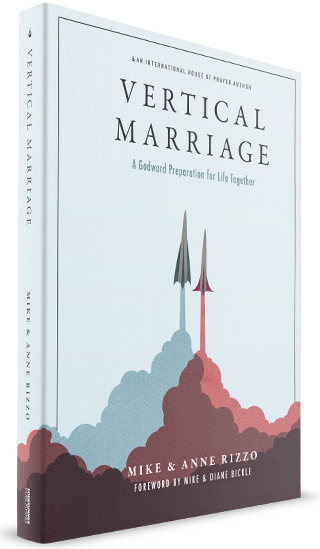 We also want to introduce our book!
To learn more and to buy a hardcopy  click here. 
For a digital copy  click here.